Carolina Hurricanes (16-24-7) at Pittsburgh Penguins (23-17-4)
7 p.m. Consol Energy Center
TV: FS-Carolinas, ROOT Sports
Tonight's game marks the final meeting this season between the Carolina Hurricanes and the Pittsburgh Penguins and only the second time that one of the team's will not be playing as part of a back-to-back when they play each other. Although, the back-to-back games didn't seem to hurt Carolina on Sunday as they outshot the Washington Capitals 45-24 in a 2-1 loss, which came a day before they defeated the Boston Bruins 4-2 despite being outshot 33-21 at even strength. In my post where I looked at the team's possession rates this season, I said that the Canes should win more games in the second half of the year becuase while the team's "true talent" appears to be below average in just about every possession metric (think 48-49%), one of the main reasons why got off to such a horrible start is due to the less than stellar play of goaltender Cam Ward. It was the perfect storm where the team was playing poorly and getting horribly unlucky on top of that. We all know that Ward is better than he's been this year and he actually has shown signs of his usual self this past month (quality performances in all six of his starts), so more wins should come along with Ward's improved play. Will it be enough to make a playoff push? Highly unlikely, but the Canes could get themselves out of the bottom of the Southeast with Tampa Bay struggling so badly.
As for our game with the Pens tonight, I am not sure what to expect because Carolina just played two of the league's better possession teams in Boston and Washington. They were convincingly outshot in one game and won but lost the game where they outshot Washington by 20, so what is in store for them tonight when they take on another one of the league's best possession teams? With Ward starting his fifth straight start, hopefully good things.
Lines & more after the jump
Hurricanes
Ruutu – Staal – Tlusty
Ponikarovsky – Skinner – Jokinen
Nodl – Sutter- Dwyer
Stewart – Brent – Sutter42
Gleason – Allen
Faulk – Harrison
McBain – Joslin
Ward
Penguins
Kunitz – Malkin – Neal
Tangradi – Dupuis – Kennedy
Cooke – Park – Sullivan
Adams – Jeffrey – Asham
Orpik – Engelland
Martin – Michalek
Niskanen – Lovejoy
Fleury
What happened last time?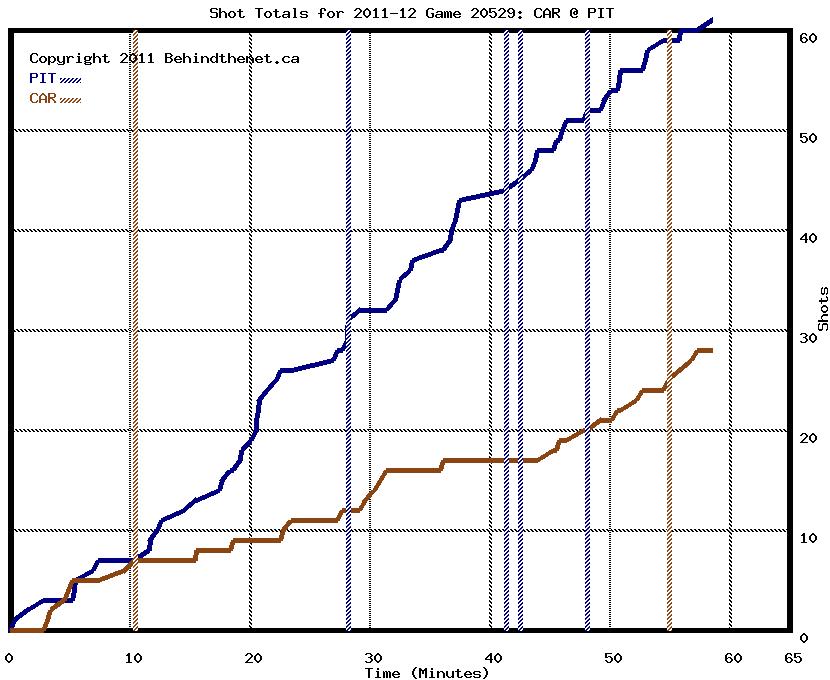 So…yeah it wasn't pretty. This was actually back-up goalie Justin Peters' first start of the season and he saw 52 Pittsburgh shots, which is way more than any goalie should see in any start so he didn't stand a chance. Needless to say, the Canes defensive effort wasn't at its best that night and that seems to be the case whenever they play the Penguins. They have given up at least 40 shots in all three of their games against Pittsburgh this year and most of the damage has come from that first line of Chris Kunitz, Evgeni Malkin and James Neal. Sidney Crosby might be the best player in the league but the Pens are lucky to possess another elite talent in Evgeni Malkin who is having another terrific season and they are getting some superb production from James Neal, too but I have to think that rushing back from that foot injury is going to hurt him.
I have to say, Penguins fans are lucky that they possess such great depth and that this team can stay a contender despite all of the injuries. Losing players like Crosby, Letang and Jordan Staal would sink a lot of teams but Pittsburgh appears to be heading for the playoffs even with those players out. I know they had a six-game losing streak recently but I do think that this team will be in the playoffs in a few months, although it may take a trade or two if Crosby, Staal and Letang aren't going to return this year. Still, 54% of the shots are going in their favor when the score is tied and that is damn good.
Game Notes
Carolina has used three different goalies against the Penguins this year and Cam Ward is the only one who has picked up a victory and he is the one starting tonight. He also saw the fewest amount of shots; 40.
The Canes are having problems defending both shots and scoring chances against Pittsburgh as they have allowed over 20 scoring chances in each of their three games against Pittsburgh this year. Forget about being outshot, let's focus more on defending in every way for tonight's game.
Pittsburgh's powerplay and penalty kill is both in the top 10 in the league in terms of getting shots on net, so staying out of the box will be key for tonight's game. Oh speaking of which, the Canes are now a top 10 league in shots for per 60 minutes on the powerplay so the team's recent jump from 28th to 20th in the league is no surprise.
John Forslund usually mentions where the "team's defense" ranks and I'm assuming he uses goals per game for that. With goals being heavily driven on luck more than skill, using shots allowed per game might be a better metric for this and going by that, Pittsburgh's "team defense" is 2nd where Carolina's is 28th. Ouch.
Gleason and Allen are going to need to be all over the Kunitz-Malkin-Neal line tonight if we want to win this game. They haven't been paired together in any of our games against Pittsburgh, so this should be a good test for them tonight. They did a pretty good job against Alex Ovechkin's line on Sunday so hopefully that success carries over to tonight.
Nodl-Sutter-Dwyer is becoming one of my favorite lines because they have been the team's best defensive players for the past week and I hope that they stay together even when LaRose comes back. What might bump Nodl off this line is his lack of offensive numbers but these three are meant to play a defensive role so I hope this doesn't become an issue. Although it would be nice to have everyone in our top nine contribute on the scoresheet.
Jeff Skinner is staying at center tonight and some people have been against this because he is poor at faceoffs but I don't think this is too much of an issue. Face-offs matter the most on the penalty kill and powerplay and Skinner isn't going to be playing the pivot position on either of those. Skinner is an excellent play-maker and should be fine at the center position and might even boost Jokinen's numbers a bit.
Enjoy the game.