Carolina Hurricanes (18-25-9) vs. Boston Bruins (32-14-2)
TD Garden, 7 p.m.
TV: NHL-Network (US)
If you told me at the beginning of the year that the only teams that the Hurricanes would be on the verge of sweeping the Boston Bruins then I wouldn't have believed you. Well, they are 3-0 against the Bruins this year and with a win tonight, they can make me look like a fool. Re-visiting the scores of those games is even stranger because the Canes have handed the Bruins one of two of their only losses that have come by more than two goals (4-1 win back in October). Their last win over Boston was also a "clear victory" thanks to an empty net goal by Eric Staal making it a 4-2 game but that was a game which Cam Ward had to steal for Carolina, or at least keep them in it. He made 33 saves on 35 shots and I would expect him to get that kind of workload again with how the Bruins often pump 30+ shots on goal per game.
The Canes could really use a win after looking flat against the Islanders on Thursday, so let's hope for a sweep.
More after the jump
Hurricanes
Ruutu – Staal – Tlusty
Jokinen – Nash – Skinner
Nodl – Sutter – Dwyer
Stewart – Brent – Bowman
Gleason – Allen
Faulk – Harrison
Spacek – McBain
Ward
Peters
Bruins
Lucic – Krejci – Peverley
Marchand – Bergeron – Seguin
Pouliot – Kelly- Hamil
Paille – Campbell – Thornton
Chara – McQuaid
Seidenberg – Corvo
Boychuk – Kampfer
Thomas
Rask
What happened last time?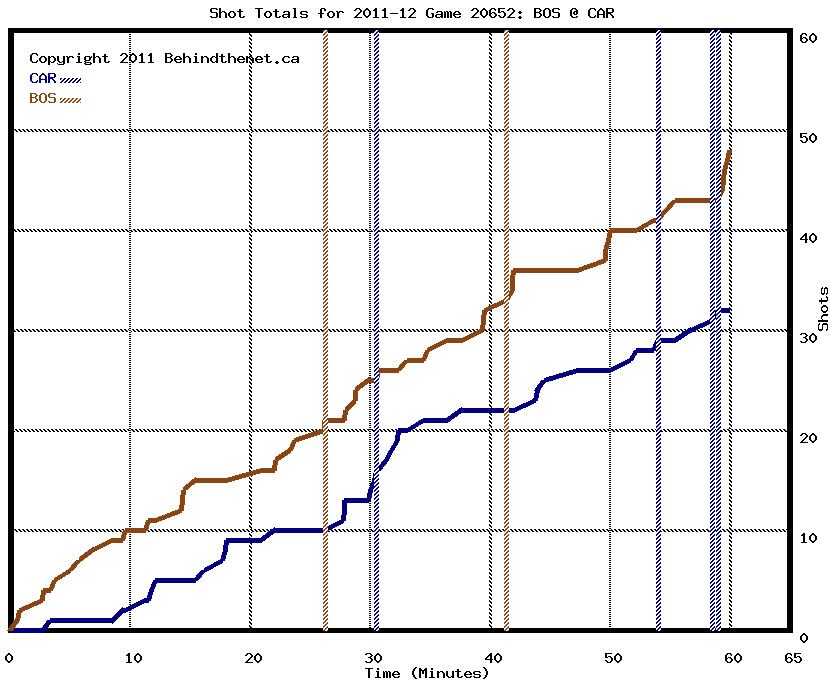 The Bruins dominated pretty much the entire game aside from the last ten minutes when they noticeably evened out and the Canes took advantage of it. Hey, even the best team's can't sit on a one-goal lead against a poor possession-team.
Boston appears to be in great shape now and are in a dogfight for the top seed in the Eastern Conference with the New York Rangers. This team has been a wrecking force in terms of blowing out their opponents as they've put crooked numbers up on a lot of teams this year. When looking at their shot metrics, they still look like a great team at even strength. The only weakness I see is that their fourth line is getting killed. Paille, Campbell & Thornton have corsi on ratings in the negative 10's, which is bad even with a lot of defensive zone starts. Their powerplay and penalty kill are both rated at seventh in the league but going by how many shots they force and surrender in both situations, they look much more pedestrian so I wouldn't be too surprised if their rankings fall there a little bit. Aside from that, this is a solid team that will give the Canes a hard time tonight.
Game Notes
Does anyone want to talk about the "brawl" that happened last game? No? Good, me either.
Faulk and Harrison could be in for a tough night as they should be seeing a lot of Patrice Bergeron's line, which is a tough matchup. Staal will probably see a lot of that line too along with the towering Zdeno Chara.
How Bowman and Nash will be used in the lineup tonight is a good question. We have seen Bowman excel with top-six minutes while Nash hasn't been given much of a chance. Nash will probably be on the second line to start things and we'll see how things go from there.
The last time Eric Staal scored was on an empty net goal against this same Boston team in mid-January. I think it's safe to say that he's due for another goal.
Enjoy the game and let's go Canes.