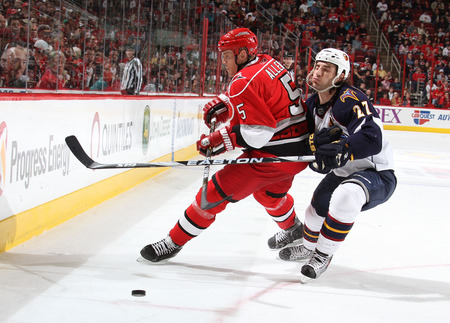 One of my favorite trades the Canes made last season was sending pending UFA Sergei Samsonov to the Florida Panthers in exchange for defenseman Bryan Allen. Why I was a fan of this move so much was because Samsonov's role with the team decreased after the acquisition of Cory Stillman and the emergence of Jeff Skinner while Allen filled a big need for the team; a physical stay-at-home defenseman. As I stated in my errors post, Tim Gleason was the team's best defensive defenseman and had the most difficult assignments. The guy who got the next toughest competition was Joe Corvo, who is more valued for his offensive abilities than play in his own zone and he was on ice for a lot of goals as a result. The Canes needed another stay-at-home guy who could play a lot of tough minutes to take some pressure on Gleason and Allen gives them that. He played decently during his 19 game stretch in Carolina but the Canes have him under contract for another year (another reason why I liked the trade) so what can we expect from Allen over an 82 game course?
| | | | | | | | | |
| --- | --- | --- | --- | --- | --- | --- | --- | --- |
| Season | TOI/60 | CorsiRelQOC | Corsi Rel | GA/60 | SA/60 | OZ% | P/TAKE | P/DRAW |
| 2007-08 | 16:38 | 1.356 | -3.4 | 2.22 | 31.4 | 48.2 | 0.9 | 0.4 |
| 2009-10 | 16:26 | 0.252 | -3.3 | 2.57 | 32.4 | 40.5 | 1 | 0.5 |
| 2010-11 | 15:39 | 0.594 | -6.9 | 2.98 | 30.8 | 45.3 | 1.1 | 0.4 |
Note: CorsiRelQoC = Corsi Relative to Quality of Competition, Corsi Rel = Relative Corsi, GA/60 = Goals allowed per 60 mins, SA/60 = Shots allowed per 60 mins., OZ% = Offensive zone start percentage, P/TAKE = penalties taken per 60 mins, P/DRAW = penalties drawn per 60 mins.
Note 2: Bryan Allen didn't play in all but two games of the 2008-09 season due to a serious knee injury.
This is Bryan Allen's player card from Gabe Desjardins' Behind The Net stat side (which everyone should check out) and it gives a good idea of what Allen's role was with Florida (and 19 games with Carolina) and how he performed during that time. As you can tell from the low zone start percentage and high QoC numbers, Allen was a heavy-lifter as a part of the Panthers. Him along with Jay Boumeester and Keith Ballard were the defensemen who got the toughtest assignments in Florida in the first two seasons listed above. However, in Allen's last season in Florida, the young duo of Jason Garrison and Mike Weaver took over as Florida's "shut-down" pair and made Allen (and Dennis Wideman) expandable to the Panthers who, at the time, were trying to save money. However, you can see that his numbers look slightly worse than they did in the previous years. He was on ice for more goals and his relative corsi is higher, as well. On the flipside, he still got a lot of tough assignments and was on ice for less shots allowed per 60 minutes. Health may also be a concern as Allen is 30 and is only two years removed from a serious knee injury which kept him out for nearly an entire season.
When I looked at defensive errors, Alllen was only somewhat responsible for six of the 19 goals he was on ice for, which isn't bad at all. The question is can he continue to be a solid stay-at-home defenseman while playing more minutes and facing tougher competition. With the Hurricanes, he was paried mostly with Jay Harrison and Derek Joslin and wasn't playing top minutes. However, with Joe Corvo gone and Tomas Kaberle added, someone is going to have to make-up for all of those short-handed minutes that Crovo left behind. That someone will likely be Allen and you can expect him to possibly get top-4 minutes. Pitkanen didn't play that many minutes on the PK, neither did McBain and Kaberle wasn't relied on for penalty killing that much in Toronto or Boston. The guys who got the bulk of PK minutes for the Canes last season were Gleason, Corvo, Harrison and Allen while was here. Either Harrison starts playing against tougher competition or I think it will be Allen who takes the extra responsibilities on the penalty kill.
The question is where people think he will fit in the lineup. Personally, I could see him being paired with Gleason to give the Canes a potential "shut-down pair" but a more likely option would be ot put him with Pitkanen or McBain to have a nice balance in the pairings. Another good question would be which defenseman sits for game 1 because there's seven worthy defensemen on the roster and only six spots. A positive thought with this is that the Canes appear to have a pretty solid defense corps if things go right for them.