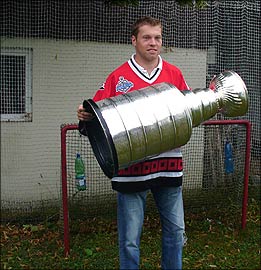 As most of you know by now, the KHL team Lokomotiv Yaroslavl was involved in a deadly plane crash which took the lives of nine players including former Carolina Hurricane Josef Vasicek. This just adds to what's already been a terrible off-season for the NHL after the deaths of Derek Boogaard, Wade Belak, Tom Cavanagh and Rick Rypien.This is the toughest NHL off-season that I can remember because regardless of what teams these players were on, the hockey community, as a whole, suffered thirteen big losses this summer.
The tragic events this off-season have really put things into perspective for me as a hockey fan. Every single player in the league constantly makes sacrifices not only to entertain us, but to make a living as well. Most of them are regular people like you or me. They all have family and friends who cared about them and were affected by these tragic events which makes looking at this photo of Pavol Demitra's daughter at the Olympics much more heartbreaking. It's not only that, but he has played on five different NHL teams and on the Czech National team, so he probably has friends from all over the league and his death has affected them. Fellow Czech teammate Tomas Vokoun could not even speak to the media after these events occured and he probably knew a lot of people who were involved in the plane crash.
Then you think about Brad McCrimmon who took the Lokomotiv job because he really wanted to be a head coach and he died before he could ever coach a game. Both him and Ruslan Salei were in the playoffs with the Red Wings only three months ago and now they are gone so this is just surreal to think about.
Vasicek's death really struck me because I mentioned him a couple of times in an article I wrote only two days ago. Before today, he was just a player who spent six years on the Hurricanes and was a good player for most of that time but I never thought much of him otherwise when I really should have. He was part of the Canes for six years and was on the 2005-06 squad who won the Cup, so his death is probably affecting a lot of guys on the roster right now as well as other players all over the league. He was never a top point-getter but he was a good teammate and there are probably a lot of people in the hockey community who are mourning his death.
I have said plenty of stupid things about athletes while watching games in the past and too many times I forget that these players have personal lives and people who care about them no matter how good or bad they are inside the rink. In the end, it's just a game. These guys are making a living by entertaining us as fans. The impact of whether my team wins or loses does not have any effect on my personal life and it's a real shame that it took the death of these players to make me realize that. I'm sure other fans are thinking about the same thing.