I've already looked at where Carolina's forwards and defensemen stand in comparison to their Southeast Division foes and determined that they sit at the middle of the pack in both categories. Goaltending should be a different story because the Canes rank near the top in this category thanks to Cam Ward's play over the last few seasons. In fact, if we're ranking goalies by how we expect them to perform this coming year, Ward could very well be the best in the Southeast even with Tomas Vokoun still in the division. It's a bold statement but I do believe that Ward will outperform Vokoun this season. Unfortunately, if we're ranking teams by their entire goaltending corps (which we are), the Canes won't be in the #1 spot.
We're going to go about this in a different direction than the last two comparisons. Instead of going through each team's goaltending corps and analyzing them, I am going to rank the top 10 goalies in the division, give an explanation why and determine a ranking out of that. Makes things a little easier.
Glossary: EV Sv% = Even strength save percentage, zSv = Save% z-score
10. Mathieu Garon
2010-11 Stats: 10-14-6, .913 EV Sv%, -.18 zSv
The Bolts will be Garon's sxith team since the lockout and he's spent the last couple of years as Columbus' back-up/relief goaltender for when Steve Mason got pulled twice a week. Garon hasn't shown that he can be a starter since the lockout but he has been able to play at least 30 games a year as a back-up, which Tampa might need to take some pressure off Dwayne Roloson. However, Garon's numbers are very pedestrian and he was given a chance to start more games for Columbus in December last season, but put up a sparkling .884 save percentage as a result. I see playing the same amount of games and playing at a similar level in Tampa Bay. He's an improvement over Dan Ellis and Mike Smith at the very least.
9. Brian Boucher
2010-11 Stats: 18-10-4, .925 EV Sv%, .09 zSv
Boucher had a good season with the Flyers last year splitting starts with Sergei Bobrovsky. Why am I ranking him so low then? Because while Boucher has been solid in limited action, he is still not a good goalie. He lets in way too many soft goals, has very questionable positioning and the year before, his even strength save percentage was .911 despite playing in two fewer games. Remember his playoff performance last year? That was the real Brian Boucher. Fortunately for the Canes, they don't need him to be lights out or play in that many games with Ward getting the bulk of the starts. All they need Boucher to do is play around 20 games and be better than Justin Peters was last year, which is not hard to do.
8. Chris Mason
2010-11 Stats: 13-13-3, .902 EV Sv%, -.44 zSV
If this were one year ago, Mason would rank a lot higher on this list. Unfortunately two years of mediocre and just horrible play have bumped him down a lot. I was thinking that he would actually be Atlanta's starter last season but Ondrej Pavelec stepped up in a huge way while Mason kept declining and that has pushed him down to back-up duties now. It's a shame because Mason was very good during his time with St. Louis but playing behind a weaker defense must have attributed to his sharp decline last year. I think he should do slightly better this season and possibly get more starts since I don't think Pavelec will be able to repeat what he did in the first part of last season.
7. Scott Clemmensen
2010-11 Stats: 8-11-7, .918 EV Sv%, -.06 zSV
Clemmensen is in a similar class to Garon in the sense that he is a good back-up but not someone who has proven himself as a starter. He was very good when filling for Martin Brodeur for most of 2008-09 but he was playing behind a team with a strong defensive mentality, which is why his numbers took a plunge when he went to Florida. He has still managed to be a serviceable goalie who can play in about a quarter of a team's games in a season, though. Clemmer isn't the guy you would rely on to steal games for your team but he is good at playing mop-up duty and being good enough to keep some teams in games. He may get promoted to 1 a/b duties with Jose Theodore this year, though. Just pray that he never gives up any rebounds because they go back out into the slot 8/10 times.
6. Jose Theodore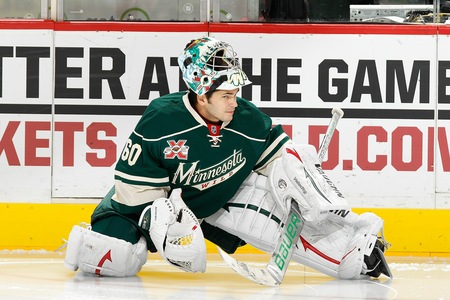 2010-11 Stats: 15-11-3, .915 EV Sv%, -.14 zSV
I was planning on just writing "Florida Panthers goalies" in the 6 and 7 spots because they are somewhat interchangeable and I expect them to split starts. Theodore's only had one above-average season since the lockout and may be pushed back into getting a starter's workload after being the Minnesota Wild's back-up last season. Theo might be the most inconsistent goalie in the league right now, too. During his time with the Avs and the Caps, he would be able to stand on his head and steal victories on some nights and others he would cough up at least four goals. Really no middle ground it seems. His ability to steal games and bail out his defense is what gives him the edge over Scottie Clemmensen here.
5. Ondrej Pavelec
2010-11 Stats: 21-23-9, .926 EV Sv%, .15 zSV
Pavelec took a huge step forward last season and solidified himself as the Thrashers starter with Mason going in the other direction. Part of me is obsessed with the gaudy .926 save percentage behind an abysmal Atlanta defense but another part of me just is not sold on Pavelec yet. Mostly because he was an awful goaltender in the years preceding. In 2010, he split time with Johan Hedberg, started over 40 games and had an awful save percentage of .908 at even strength. Am I supposed to believe that a 23 year old goalie suddenly turned into Ryan Miller in one year? I'll need to see Pavelec repeat this performance before I'm completely sold on him. His monthly splits suggest that he won't. Pavelec's save percentage before the All-Star Break was .927 and for the rest of the season it was .883. There you have it.
4. Michal Neuvirth
2010-11 Stats: 27-12-4, .922 Sv%, .02 zSv
Neuvirth was also a pretty streaky goalie last year but he's been a little more consistent than Pavelec and put up better numbers in previous NHL experience. A big reason why the Caps decided to trade Semyon Varlamov was because of Neuvirth and his strong performance last season. He still has a bit to work on but he really developed into a solid NHL-level goalie last season. I'm not convinced he is as good as a lot of people think he is but I like most of what I've seen from him outside his rebound control. He has shown that he can keep his team in games but his performance in the Lightning-Capitals series showed that he isn't the type of goalie who can steal games, at least not yet. Maybe a lighter workload this season will be good for him?
3. Dwayne Roloson
2010-11 Stats: 24-25-5, .924 Sv%, .08 zSv
Roloson exactly the type of goalie who can steal games for teams. It's what he did for Edmonton during their playoff run and in 2009 during the Oilers march towards the playoffs where they came up just short. Then there was his performance last year with the Lightning which was also very impressive and he looked amazing compared to their previous goalies. He showed the ability to steal games in Tampa Bay, as well and played a significant factor into the Bolts making it as far as they did in the post-season. His aggressive style along with fatigue do come back to hurt him, though. He has a habit of going out of his crease to play pucks or draw penalties and sometimes he looks brilliant while other times he just fails miserably. Either way, he's the Bolts netminder for another year and should give them at least a league average performance with the system they play in. His age is a bit of a concern, though. Can he start over 50 games at the age of 43 and stay consistent? Good question. I will say that him being the best Tampa Bay goalie in years shows how bad their goaltending has been during that time.
2. Tomas Vokoun
2010-11 Stats: 22-28-5, .919 Sv%, -.04 zSv
Time to attempt to prove my statement at the top of the article. Why is Vokoun at #2 instead of #1. Easy, because most goalies will see a decline as they enter their late 30's and Vokoun is 35 right now.
Here's a list of goalies and their save percentages when they were 35 years old. Most of these were top-tier goalies at some point in their careers and you would not know it by looking at some of these numbers. Brodeur and Burke were the only ones who posted outstanding save percentages at 35 years of age. Can Vokoun do that? Absolutely. His play DID see a decline last season, though. In every year since the lockout, Vokoun has posted an EV save percentage of over .925 with some years being over .930. It's entirely possible that last season was an aberration because of how bad that Florida team was, but it's also possible that Vokoun's age is catching up to him and he can't steal games the way he used to. We'll see what the case is this year as he is playing on a much better team now with a revamped defense. He is still an elite goaltender in my mind and possibly the best since the lockout but can he continue to play at a top-tier level at 35? Either way, the Caps got him for a bargain at $1.5 mil for one season and he isn't going to be depended on to bail the team out every night like he was in Florida.
1. Cam Ward
2010-11 Stats: 37-26-10, .927 EV Sv%, .14 zSv
I know putting Ward at #1 over Vokoun just screams me being a homer but we're ranking goalies based on their expected performance this season and I think Ward will outplay Vokoun. I examined Ward a little closer to determine if he was an elite goalie or not and over the past three years, he has been one of the best in the league. He is also coming off the best season of his career and is only 27, which means he's still in his prime and is capable of playing at this level for the next few years. He was ridden like a horse all through last season playing in over 70 games and still posted a well above-average save percentage behind a defense that gave up a ton of shots nightly. The mileage he took on last season is concerning but I think he still has a few more years like that left in him while I don't think he is at an elite level yet, he is definitely top 10 and plays like a top 5 goalie on a lot of nights. This is why I think he will be the best goalie in the Southeast this coming season.
We have the goalies ranked, but here's how the teams rank:
1. Washington
2. Carolina
3. Tampa Bay
4. Winnipeg
5. Florida
Washington has two of the top-5 goalies in the division on their roster while the Canes have the best and one of the worst. It's possible that Boucher will put up decent numbers in a back-up role but would you take him over Neuvirth if you were building a roster? I wouldn't. I was contemplating putting Tampa Bay below Winnipeg because I am not 100% confident that Roloson will put up the numbers he did last season but at the same time, I do not think Pavelec will either and I have already brought up Mason's decline. He may have the coolest mask in the division but he's close to being finished if he has another performance like last season. They should be a little better than Florida whose goaltending duo is composed of two who were previously back-ups. The Cats are in trouble unless Jacob Markstrom makes the leap into the NHL and pulls a Steve Mason.
I will also say that doing this post made me realize how weak the goaltending in this division is.