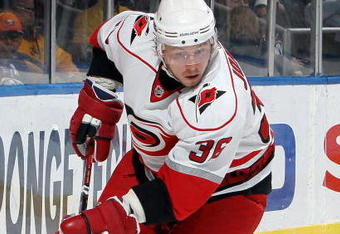 Powerplay and penalty kill percentages can be deceiving for many reasons. Some teams may draw less penalties than others and skew the percentages, it doesn't take shots into account or some team may give up a shorthanded goal and then score on the same powerplay and get rewarded for it. There's a lot of things that simple powerplay and penalty kill success rates don't tell you about good a team's powerplay is. My method is going by how many shots they produce per 60 minutes on the powerplay since I think that gives a you a good idea of how effective a team is at generating pressure and keeping the puck in the opposing zone with the man advantage. The Canes powerplay ranked 25th in the league by this metric with their 46.2 shots for per 60 minutes. There are some flaws because something like a soft wrister from past the blue line that gets on net would count as a shot, which obviously would make the powerplay look better on paper than it actually is. There are also powerplay units that pass a lot and can score on few shots that would look worse by this metric.
Jim O'Brien over at Pro Hockey Talk came up with a system called "Powerplay and Penalty Kill Plus/Minus" to see how good or bad a team's powerplay or penalty kill was this past season. The system is pretty simple. A powerplay is judged by how many goals they score minus how many they give up. Interestly enough, the Hurricanes powerplay (which is ranked as one of the worst in the NHL through percentages an shots) is the 10th best in the league by this metric. Here's his reasoning for it;
"Hurricanes only connected on 15.3 percent of their man advantages, but they drew 346 penalties, the highest total in the NHL. That allowed them to score 55 power play goals, making their unit productive in the big picture."
It's true. The Canes were a very effective team at drawing penalties last season, which is a very good thing but the one issue I have with this is that a team who spends a lot of time on the powerplay like the Canes did last season will be rewarded through this statistic because they draw a lot of penalties. However, it should be noted that teams like Chicago and Anaheim also ranked high through this system despite not drawing that many powerplay opportunities so I digress.
I think this system is good for judging a powerplay's success rate more than percentages but I still prefer to use shots to see how effective a powerplay is but I would definitely take this system into consideration, as well. Shots are a good way of telling how good a team is at generating momentum and pressure but that doesn't always equal success for some teams. Washington and Columbus' powerplays were both very effective at generating shots but they did not score a lot, which is reflected through the plus/minus stat. I feel that this stat gives good context for the shot data that I use to judge teams powerplays. How lucky or unlucky a team was on the powerplay should also be taken into consideration here.
So while the Canes scored a lot of goals on the powerplay, they also had a lot of opportunities to score with the man advantage and didn't get a lot of shots on net during that time either. Is the fact that they ere good at drawing penalties and were able to score somewhat a good thing or are you concerned that their goal total might be lower if they didn't draw as many penalties? It's definitely something to think about.